News
Congratulations to:
Max Barlow (second from left) on your 1st Dan grading 1st July 2018
Congratulations to:
Mick Travis on your 1st Dan grading 29th October 2017
Congratulations to:
Sam & Harry Kay on their 2nd Dan grading 29th October 2017
Sensei Charles Gidley 9th Dan presentation. 13-08-2017
Congratulations! Lee Power passed 5th Dan 13-08-2017
Congratulations! New Dan Grade Sam Parker. 15-05-16
Sensei Gidley's pressure points course @ Shug You Karate Do, Halifax 15-05-16
Congratulations! Sensei Fred Jones 7th Dan award 13-03-16
BSKI/JSKA-GB National Open Karate Championship Results 2015
Congratulations! New Dan Grade Cassidy Harte. 30-11-15
Congratulations! New Dan Grade Sophie Williams. 30-11-15
Congratulations! Darren on passing 3rd Dan Black Belt 11/11/2015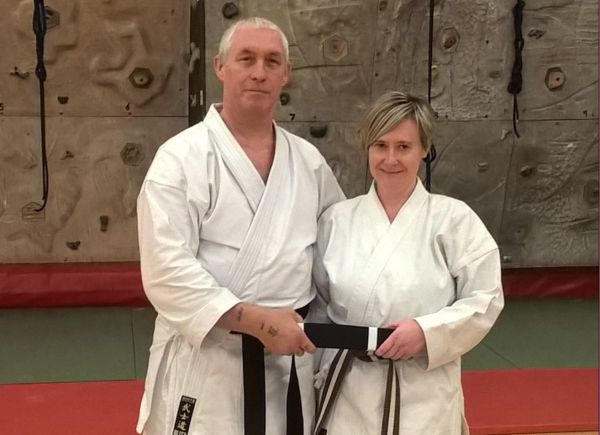 Congratulations! Diane on passing 1st Dan Black Belt 11/11/2015
Congratulations! Dot on passing 1st Dan Black Belt 11/11/2015
Congratulations! James on passing 1st Dan Black Belt 11/11/2015
Congratulations! Rabhia on passing 1st Dan Black Belt 11/11/2015
Seniors get together L-R; Lee Power, Charles Gidley, Soon Pretorius, and Fred Jones. October 2015
Well done to Finlay on passing his 1st Dan black belt, he has been training really hard for the last four years with Sensei Marc Leacock.
he was graded by Sensei Charles Gidley.
Pictures from the April 2015 Kata Course.
Well done to the twins Harry and Sam Kay who recently passed their 1st Dan black belts
both are students of Sensie Marc Leacock. April 2015
L to R: SKU Chief instructor Sensei Stan Knighton , John Gordon, BSKI Chief instructor Sensei Charles Gidley
At the SKU National Championships.
Sunday 12 October 2014
Congratulation to John Gordon on is 1st place in the SKU National Championships.
KIZUNA WORLD CUP GOLD MEDAL SUCCESS
Well done to John Gordon of the Heywood Ren do Kai karate club (BSKI/ASAI GB) who recently won a gold medal at the Kizuna World Cup Karate Championships.
The tournament took place in Warrington, where John took part in the 9th to 4th kyu Kumite section.
After several hard fought fights in which John won, scoring with a variety of techniques (sometimes scoring Ippon), he reached the final and was crowned the champion.
His instructors, Charles Gidley 8th Dan and Marc Leacock 7th Dan, were extremely proud of John`s achievement.
Sunday 25th May 2014
Well done to the students who competed at the Uk open held in Bury 29th September 2013; winning 6 gold medals, 1 silver, 2 bronze.
Lee Power, 3 gold, Senior kata, Senior kumite and Team kumite.
Finlay Gilkinson, Gold medal in the under 10's children's kata.
Dave Gordon, Silver medal in the under 75k kumite, Gold in the team kumite
John Gordon, Bronze medal in the over 75k kumite, Gold in the team kumite
Sophie Williams, Bronze medal in the girls kumite.
Memories of Sensei's trip to India
Congratulations to Nathan Maxwell on passing Shodan on 18/08/13
Nathan is a member of Heywood Ren do kai Karate club and trains with Sensei Marc Leacock.
Martial Arts Madness for Ella
The Rose of Rochdale
Sensei Charles Gidley and Marc Leacock were host to a fund raising event, along with:
Wayne Otto OBE - Simon Jackson MBE
They where joined by a host of other instructors from various styles of Martial Arts
Nigel Hudson 6th Dan - Tony Brown 6th Dan - Julian Mallalieu 6th Dan - Wim Tewinkel 6th Dan -
Kevin Merriman 5th Dan - Martin Stapleton and Steve Boyes.
The was an all round good attendance with a number of the BSK included.
Held on the 30th June 2013.
Congratulations to Isaac Wilson for passing Sandan on 19/06/13, from Independent Martial Arts.
(Congratulations to Alan Kenyon on passing his Yondan 12/10/12).
Congratulations Lee Power passed his Yondan on 22/6/12.
Congratulations to Daniel Beese of Ren Do Kai on passing Shodan 10/06/12.
Congratulations to Robbie Cooke, who took 3rd place at the BKA Open Classic at Leigh Sports Village on Sunday 27th May.
Robbie fought off some very strong opposition from a category of 30+ strong karate ka and only narrowly missed out on being in the final.
Once again, congratulations to Robbie for an outstanding performance and lifting a medal on behalf of the BSKI.
Pictured L/R Association Secretary Alan Kenyon, Robbie Cooke, and Sensei Gidley.


Thanks to all who attended the 2nd Kata & Bunkai course held on 22nd April 2012, at Sensei Craig Cooke's dojo in Accrington.
The course was well attended, with a good mix of senior and cadet Dan grades ranging from 6th Dan to 1st Dan and also many lower grades.
The course started with a good warm up session then Sensei Gidley wasted no time in starting the course off.
The main Kata that Sensei choose for the days course was Heian Nidan. Firstly going through the kata to the count, then half pace to full power in there own time.
Sensei gathered everyone into a semi-circle round him so all could get a clear view of his demonstrations. He then broke the kata down into four sections of combinations so each student could understand and practice what was being shown. Sensei started with the bunkai to the opening sequences, showing and explaining how devastating this combination can be from bring attacked from the front as much as from the left or right side and with any size attackers.
The students were then asked to pair up and Sensei took the time to walk round making sure each pair followed his instruction, He also emphasized that when they do the kata, visualize each movement and combination as if you are being attacked so the blocks and counters become more than just movements.
Sensei emphasized this should be the approach to every kata.
All the students applauded Sensei Gidley at the end of the course for his time and extensive knowledge that he passed on that day.
We look forward to seeing you all at the next course.
National Open Karat Championships


Sunday 9th October 2011

RESULTS
Congratulations to Sensei George Cheshire on Grading to 6th Dan
February 27th 2011
Congratulations to Sensei Ian Newsham on being awarded his 6th Dan
The British Shotokan Kyogi